The Civil Security Ghost, also called "Ghost" or "Civil Ghost", is a dangerous, cloaking Civil Security enemy in Plazma Burst 2. The Civil Security Ghosts can be considered the special forces in the Civil Security ranks, due to their special abilities. They wear specially designed armor that can make them invisible to enemies. They generally use PSI Blades, where they are most adept at and can dispatch the Marine in a matter of seconds if he gets close enough. These soldiers were most likely designed for special recon missions due to their stealth capabilities.
Their armor resembles that of the Civil Security Lite, but is different in that the Civil Ghosts' armor is completely black with the exception of the visor which is bright green. When first spotted they are visible but only for the few seconds it takes for the armor to engage the cloaking mechanism. When a Ghost is injured they will become visible for a few seconds, if they are mortally wounded they will become translucent (partially visible) until they either die, in which case their corpse becomes fully visible or until healed, where they will invisible to enemies again.
Weapon Variety
Edit
Civil Security Ghosts are commonly seen with PSI Blades. They are stealthier operatives, after all, therefore using stealth to their own advantage to kill their Enemies and have nobody know. They serve as the most common of Civil Security Ghost units, and without proper care, they will assassinate the player with ease. They swig faster as well.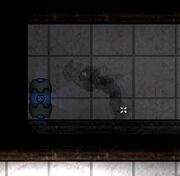 There are only four Ghosts that carry shotguns in the campaign. These four units are not the most silent out of all the other Civil Security Ghost units, but pose a huge threat.
One single unit in the PB2 Campaign carries a Heavy Railgun v04 CS-OneSOneK and will try to ambush you at the beginning of level 26.
Appearance
Edit
The Civil Security Ghost are an incredibly rare and dangerous foe. These enemies are usually found alone or in very large groups, spanning entire levels. They can be found on the following levels of the Plazma Burst 2 campaign: