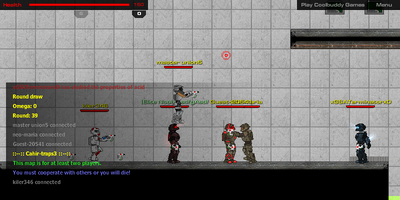 Cooperative, commonly shortened as COOP or Co-Op, is a multiplayer game mode in which players eliminate each other in attempt to be the last team still alive. Cooperative match rules are similar to Team Deathmatch, but with more customizable teams and without respawns.
These maps usually contain Defibrillators to revive died teammates.
Joined players start dead in these maps and have to wait to be revived by their teammates. The game regenerates after only one team is left, meaning ever player spawns in the same place they had the previous round.
Cooperative games are broken up into rounds that regenerate after a team has won. The end of each round is displayed in chat text form in-game, along with the score for each team and how many rounds have passed. The round count continues to add until the game is disbanded.
Trivia
This kind of Multiplayer mode is very popular.
You may not switch teams here.
Ad blocker interference detected!
Wikia is a free-to-use site that makes money from advertising. We have a modified experience for viewers using ad blockers

Wikia is not accessible if you've made further modifications. Remove the custom ad blocker rule(s) and the page will load as expected.