Deathmatch (stylized as <Deathmatch>) is an approved custom multiplayer map created by the player Creeperhunter55.
It is estimated that this map was created during late 2014, as judged by the first vote ever rated for it, on September 9th, 2014, and it was approved on 3rd October, 2014.
Description
The map is an enclosed arena type map mostly suitable for deathmatch game types, hence the name. The map has one stop elevator (which can't be moved until it reaches its final positiion) that is placed on the far right side of the map, and a timed doorway entrance at the far left. A gravitator is placed within the middle of the map alongside a pool of water, and there is a small spot at the top of the map in which most players camp. The map is also set in space.
Weapons
Teams
Tips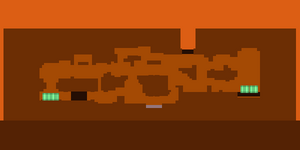 There are several areas to camp within this map, however not all areas are safe to do so. Some players take the advantage of hiding in the small open shaft at the top of the map, camping on a thin platform. However, it is possible to shoot through this platform and kill a player.
After activating the left doorways, the player is only given around 2-3 seconds of waiting time, and if the player does not get through successfully, he will be crushed by two horizontal doorways.
Be wise when using the elevator on the far right side of the map, as it travels at a slow speed, so players are often killed due to a long waiting time.
Due to an enclosed structure, this map is prone to having a very intense battle in-game.
Due to an enclosed structure and tight areas on the map, spamming with an Alien Shotgun will result in obtaining a lot of kills.
Ad blocker interference detected!
Wikia is a free-to-use site that makes money from advertising. We have a modified experience for viewers using ad blockers

Wikia is not accessible if you've made further modifications. Remove the custom ad blocker rule(s) and the page will load as expected.