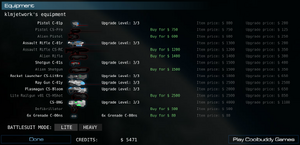 The Equipment Shop is a
Campaign
 upgrade shop that allows the player, as either the
Marine
or
Proxy
, to go through between levels to purchase weapons, items, and upgrade weapons. This is the first way of acquiring weapons in the game, the second being picking them up in the
Levels
.
In the beginning levels, picking up weapons is cheaper and a bit faster than saving up the money to buy them from the Equipment Shop. As the game progresses, however, certain weapons become impossible to pick up in-game, and must be bought from the equipment shop, at a greater cost. This is especially true with Proxy's Equipment Shop. However, some weapons that can be bought in one shop sometimes cannot be bought in the other shop, and therefore must be traded with another protagonist (such as not being able to buy the Heavy Railgun in the Marine's shop and not being able to buy the CS-BNG in Proxy's shop).
Below is a list of weapons and items and their price for each protagonist's shop.
Items found in the Equipment Shop
Marine's Equipment Shop
Proxy's Equipment Shop
Notes:
Before the PB2 version 1.20, the Pistol CS-Pro was known simply as Pistol. The Grenade C-00n was also only called Grenade.
Before the PB2 version 1.20, the Grenade's buying price was $200.
Ad blocker interference detected!
Wikia is a free-to-use site that makes money from advertising. We have a modified experience for viewers using ad blockers

Wikia is not accessible if you've made further modifications. Remove the custom ad blocker rule(s) and the page will load as expected.