Level 1 for Multiplayer is a large map, made by Eric Gurt. It is designed for team matches like Co-Op. It looks like Level 1 from the campaign, but with notable differences. This is where the heroes, Marine, Noir Lime, and Proxy fight against Usurpation Forces.
Changes (from campaign level)
The underground system now includes about 2-3 tunnels in the middle of the map.
The Usurpers spawn at the right side of the map.
The edge of the map, there is a inactive door to the Usurpation base.
Weapons
Pistols
Automatics
Shotguns
Railguns
Explosive weapons
Others
Teams
Delta
Usurpation Forces
Tips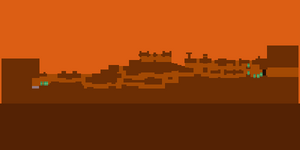 For Delta
As the heroes, you have access to the unique weapons that the other team does not have. Remember, use them wisely, and don't let it fall to enemy hands.
For Usurpation Forces
Once you have a 5-man team, numbers are at your side. Use your weapons. The Alien Shotgun is notorious enough for granting kills on a large distance.
Be sure to take cover. This map is open-based, so try to find and take cover when under attack!