Sector (stylized as Sector v2) is an approved custom map by iJer published in July, 2012. It was approved some days later, and became a hit on the multiplayer lobby. It is mainly designed for Deathmatch, but also perform for Team Deathmatch and Cooperative. In March, 2013 it was updated with new platforms and a wider structure.
Description
The map is an uncredited, slightly modified copy of Plazma Burst 2 campaign level 2, with more platforms and rooms glued in. A noticeable distinction for the campaign level is the connecting tunnel that links the upper and lower right sides of the map. It features an elevator, and a laser with a damaging pusher. Two barriers were also added in, consisting of a tall grass hill, and a door at the far-side right of the map.
Weapons
Teams
Gamma
Beta
Tips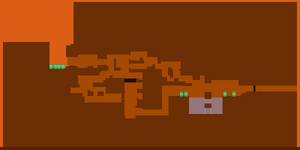 Alien Shotgun is now your best friend, due to the length of the map and the accuracy of the alien shotgun.
If you enjoy camping, hide in one of the little bases, and spam your weapon.
Walljump is necessary to access certain parts of the map.
V2 Changes
Added two more grenades that can be found in parts of the map, in pairs.
Water's surface decreases and added a block.
Added new terrain to the map.
Ad blocker interference detected!
Wikia is a free-to-use site that makes money from advertising. We have a modified experience for viewers using ad blockers

Wikia is not accessible if you've made further modifications. Remove the custom ad blocker rule(s) and the page will load as expected.