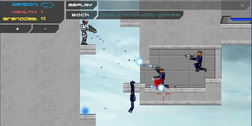 Level 2 is the second level in the Plazma Burst: Forward to the Past campaign. New technologies are presented in this level, along with more difficulty than the first level. The Marine starts the level after falling down a shaft into a hallway that leads outside. After eliminating a few Human Soldiers and stepping outside, the Marine will come across another building containing a soldier and a Grub.
The player goes upstairs, kills the Grub, finishing the level. This level introduces new entities like the Assault Rifle that can be picked up by the Marine and the Grub. It is also the last level where the soldiers do not wear helmets.
Trivia
This is the first level with a gravitator.
This level introduces the Grubs faction.
Ad blocker interference detected!
Wikia is a free-to-use site that makes money from advertising. We have a modified experience for viewers using ad blockers

Wikia is not accessible if you've made further modifications. Remove the custom ad blocker rule(s) and the page will load as expected.