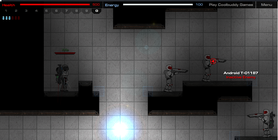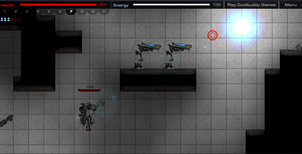 On this level, you will encounter the whole Android Faction . The level has many jump pads and is actually a gauntlet built on them. After activating a hard-to-find switch, the
Marine
can go through a now-open door and up another jump pad. After going up, three Humanoid Androids are on patrol. Another one is behind a ridge. Go to the left side, climb up the outcropping and exit the level.
The only Faction of Enemy in this Level are the Androids.
Android T-01187- The humanoid, yet robotic enemy in the Level, they are seen carrying Alien Shotguns, two of them which are probably the captain of the teams are seen carrying the Rocket Launcher. There are probably 20-15 of these Androids in the level.
Android SLC-56- The rarest enemy in the whole level, only 6 of them are seen in this Level, and they are seen carrying only Heavy Railgun v04 CS-OneSOneK's.
They are the only Faction of enemy in the Level.
This is the only Level where Android T-01187's appear.
Beware the heavy Railgun, two hits from it and you will be dead