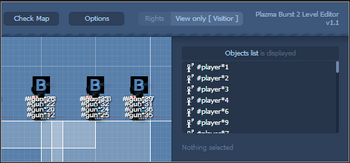 This is a feature that was added along with Map Editor v1.1. When a player sets their map as "Open Source" (It is "Closed" by default), other players can see how certain mechanisms work, such as doors, explosions, cloning, etc. As well as view the map, players can also copy (Ctrl+C) and paste (Ctrl+V) objects to their own map. However, other players can NOT edit or make changes to the original person's map.
On the top right corner of the editor, it can be seen what rights each user has to the map. The map creator has full rights, and complete control to editing when viewing the map, and may change/edit the map. Those who did not make the map but are viewing it are referred to as visitors and can only view, as well as copy and paste pieces of the map.
Ad blocker interference detected!
Wikia is a free-to-use site that makes money from advertising. We have a modified experience for viewers using ad blockers

Wikia is not accessible if you've made further modifications. Remove the custom ad blocker rule(s) and the page will load as expected.