a nightmare map is a class of map in Plazma burst 2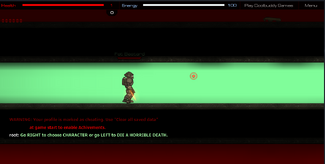 Nightmare maps usually use toilet, nightmare, unfunny, black, weird and scary humor.
these class of maps arent common to find, and its weird to find one that can be played in MP , they usually dont have any normal history or even a history they arent very popular in the PB2 community and usually have 18+ content.
Example of Nightmare maps
tortoise-bastard
tortoise-the gurt
noune-gantlet
tortoise-space funeral
noune-stronghold371
noune-prison
noune-live_survive1
Ad blocker interference detected!
Wikia is a free-to-use site that makes money from advertising. We have a modified experience for viewers using ad blockers

Wikia is not accessible if you've made further modifications. Remove the custom ad blocker rule(s) and the page will load as expected.