For other weapons with similar names, look here.
The Rocket Launcher is a small, handheld explosive weapon from Plazma Burst: Forward to the Past. It fires an explosive rocket-like projectile similar to that of the Rocket Launcher CS-LitBro from Plazma Burst 2, and could be considered a predecessor of the Plazma Burst 2 weapon. The Rocket Launcher has excellent damage in FttP, bested only by the Plasma Cannon, and is the only weapon that possesses an explosive, splash damage projectile.
Trivia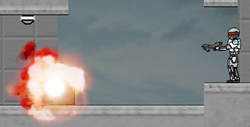 It increases Marine's grenades count from 3 to 15. The same somehow applies to Noir Lime too.
Note: if you pick it up on a level, you'll have to finish that level to get more grenades; if you buy it, you'll get +12 grenades instantly.
The rockets will begin to fly in circles after traveling a certain distance, making this gun less effective at long range.
If you fire it right under yourself while ducking, the rocket will not explode immediately, and will bounce off the wall instead, possibly flying away.
It is unknown who made this weapon, but it is used by Falkoks, Human Soldiers, and the Marine.
The rocket can bounce off walls at a certain angle, unlike its Plazma Burst 2 counterpart.
If it flies for too long, in disappears without any explosions, unlike Plazma Burst 2 explosives.
It is the only weapon in both games that has limited ammo.
It is also unknown if this gun will ever be added to Plazma Burst 2, or Plazma Burst 3.
Ad blocker interference detected!
Wikia is a free-to-use site that makes money from advertising. We have a modified experience for viewers using ad blockers

Wikia is not accessible if you've made further modifications. Remove the custom ad blocker rule(s) and the page will load as expected.