The Plazma Burst 2 VoiD mod is an unoffical skin and name mod of Plazma Burst 2. The game contains new skin variations and names for the Usurpations, the Civil Security, some slight modifications for the Marine (he has no name change though), the androids, small changes to the vehicles, and background updates.
Some of the skin models (and names) have not changed at all such as, Proxy, Noir Lime, the Falkoks and the corvette. The soundtrack and graphics have been changed, and the latest update allows the player to have Proxy and Noir Lime helmets as well as having improved armor.
Controversy
VoiD is not sponsored or supported by the official Plazma Burst 2 developers, and the game has caused controversy. The developer of Plazma Burst 2: VoiD has been in conflict with the developers of the original game over various disputes, including an issue with the placement of new ads and the addition of muliplayer for the VoiD mod. The game is no longer available on its original site. The Plazma Burst 2 official website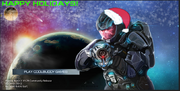 has also taken certain measures to cover up the game and any attempts of advertising it. For instance, using the word "VoiD" is not allowed in the site chat.