Realwar (stylized as ORIGINAL Realwar (v1.0)) is a map created by X Death. It was approved some time in early 2012, and enjoyed popularity until its unapproval shortly after the 1.17 update, when X Death edited the map. After a long hiatus, the map was restored and re-approved in 2015. It is a realistic battle; each player has an assault rifle, a pistol, and a set of defibrillators along with two sniper rifles per side. Each player has 130 HP (originally 75). This map can be Co-Op, DM or TDM.
Trivia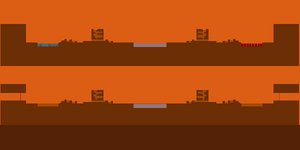 The map has two sections, one for cooperative and one for deathmatch and team deathmatch. The deathmatch section features a teleport between the two ends of the map, which is supposed to prevent campers.
Ad blocker interference detected!
Wikia is a free-to-use site that makes money from advertising. We have a modified experience for viewers using ad blockers

Wikia is not accessible if you've made further modifications. Remove the custom ad blocker rule(s) and the page will load as expected.